"Beauty, Magic, Transformation" – Sue Wong
September 19, 2016
/
/
Comments Off

on "Beauty, Magic, Transformation" – Sue Wong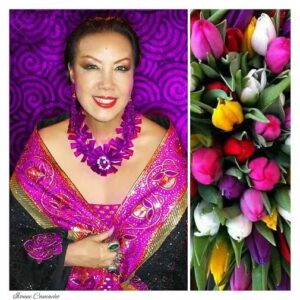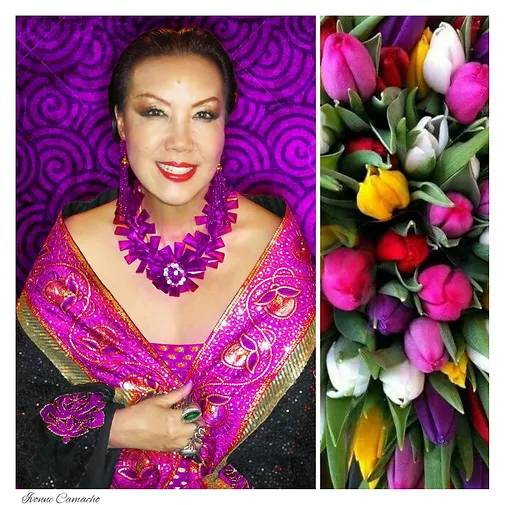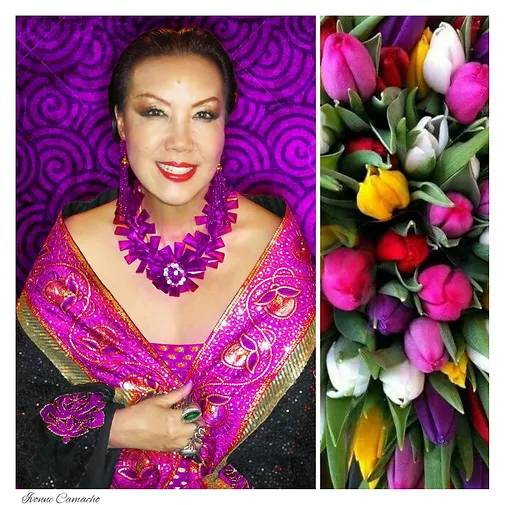 AM: What does the Sue Wong brand represent?
The SUE WONG look exemplifies glamour, beauty, romance, style, femininity, and is a homage to the Eternal Goddess that resides in every woman. My work in Fashion employs the revered age-old couture techniques implemented by the finest Couture houses in Europe, and evokes the allure and glamour of various eras such as Weimar Berlin, 1930s Shanghai, Precode Hollywood and Manhattan's gilded Jazz Age. While often adopting vintage style, every design belongs in the now and is decidedly very SUE WONG.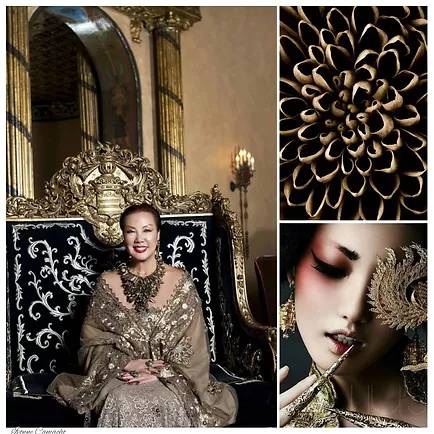 I practice a healing through beauty, invoked, awakened and represented in my designs applicable to a vast array of mediums. I find myself in a natural progression in my long career, and am in the process of transitioning from designing, manufacturing and distribution into a pure license model. I have an impeccable designer name and an exquisite brand that I built up for the last thirty years. I am keeping my intellectual property to license out to a broad category of Fashion, Home and Lifestyle classifications. While maintaining my signature style of haute glamour and Designer sensibilities, SUE WONG will now enter into the arena of Home, Lifestyle, Architecture and interiors.
As a designer whose sensibilities, sensitivities and iconography transcend many genres and mediums, I have a heightened appreciation for architecture and how living spaces deliver safe havens and paradigms that exemplify who we are, celebrating all aspects that make us individuals — from spatial configurations, textures, colors, ambiance, atmosphere, lines and Life as an experiential art itself. Architecture to me is the forever-evolving living sculptural embodiment that celebrates all these multi-dimensional realms that optimizes a pleasant living experience.
My Art and iconography of haute style is not exclusive to Fashion, but mutually expressive as a powerful conduit of healing through architecture and design.
AM: Can you decipher what your mantra, "Beauty, Magic, Transformation" is trying to depict?
Quality Art is always a story. Excellent Art is an entire Odyssey – an enticing mythology that grabs at our most inner sensitivities. I design with this in mind. It's a story of external as well as internal Transformation – empowering women. It's the quintessential fairytale seen through the eyes of fabric, texture and paramount presentation. I invest my design mantra of Beauty ~ Magic ~ Transformation in each and every gown I design. My gowns awaken the Feminine Divine and honor the inner Goddess that resides in every woman. For this reason, I offer the woman who wears SUE WONG an experience of Transformation through the doorway of beauty. Beauty has the power to transform because it is the manifestation of our creative essence, a signature from our higher selves. In such a pure and honest form it is alchemic and this alchemy procures Magic, which in turn creates Transformation. My clothing is transformative and healing. It encourages the woman who wears a SUE WONG to evolve into the very best that she can be. When a woman wears a SUE WONG gown, she experiences the living mantra that I embed in all my gowns: BEAUTY – MAGIC – TRANSFORMATION.
AM: What inspirations enable you to create such exquisite designs?
My SUE WONG gowns harken back to Hollywood's golden era, epitomizing an unprecedented and timeless Glamour and Magic. My muses are a constellation of iconic silver screen Goddesses and Sirens – Norma Talmadge, Greta Garbo, Marlene Dietrich and Jean Harlow (to mention a few). My designs are steeped in mystique and exude an infinite romance which has always passionately inspired me. These iconic silver screen goddesses resonate an odyssey of seduction, a sensual, evocative, poetic lushness embodied in each and every one of my gowns.
I am inspired by all high quality Art, by Nature, by my travels, by life experience, old Hollywood films, from my sense of higher SELF. It all comes from a higher realm, and I honor that gift and legacy that has been given to me. I am pleased to have been practicing my art for many years. The creativity regenerates me, keeps me youthful, and has been empowering both as an artist and as a woman. I believe and practice the Art of Living from my ancient ancestors. I am proud of my more than 5000 years of DNA memory in my Chinese roots and culture which cannot be erased. I think the aspect of Chinese culture and the philosophy of the East that inspires me is the profound consciousness and awareness of cause and consequence, or the basic law of Karma. Everything and everyone is cosmically inter-connected. I was brought up in the way of the Tao. However, I see myself as being beyond borders, beyond culture, beyond religion, beyond any given categorization – all of which reflects itself and speaks through my designs across all mediums I work within.
AM: With each new season, your designs are continuously of unique stature. What is your decision process in your selections of textiles and colors?
I used to work almost exclusively in silk, as it is the most gorgeous, fluid, sexy, finest fiber on the planet. With the rise of the Chinese renminbi against the US dollar, I have since incorporated other synthetic fibers. I prefer diaphanous fabrics that have movement and flow fluidly with elegance. I love exploring exquisite fabrics and creating unique pieces of Art shimmering with incandescent beads, embroideries and layered textures embellished with passementerie and soutache – all combined to create experiential haute couture that is graceful, elegant, unique and timelessly beautiful.
AM: As a designer and worked in Asia for many years brings me to my next question: The intricate workmanship of your gowns are being done by women of a generation that are fading. How will this effect your designs in the future?
I am known for meticulous hand embroidery employing hand-wrought techniques as practiced in the finest couture houses of Europe. These techniques and gorgeous beadwork in my work will be a thing of the past in 20 years as China and India continue being industrialized, but the signature SUE WONG iconography remains epiphanous and exclusively unique, even if the process is generated and driven by technology and the advancement thereof.
Technology revolutionizes the technical process of designing, but the core skills, approach, implementation of one's design sensibilities and iconography defy technological evolution, because it comes from your soul. While I keep updated with technological aspects to execute efficiency and productivity, I never compromise on the quality and workmanship that is synonymous with my designs and brand. Quality workmanship is crucial. It is an indelible mark of my brand.
I believe Elegance, Style and Haute Glamour – like excellent Art — never go out of style. Good design and good art always has great intelligence behind it.
AM: Sue Wong is known as "Every Woman's Couturier". What I find that to be magnificent, is that you create gowns women can afford to wear. And, allowing any woman of any size to feel like a Goddess. What was your evolution of your "Goddess" concept?
I infuse my design work with a very powerful universal yet esoteric spirituality. I strongly believe that pure Art accesses truths that are a strong catalyst to healing. Artists heal themselves through the language of beauty as manifested through their Art. When Art evokes and elicits such a strong reaction, a communion unfolds between the artist and the audience. In that instant, a divine occurrence transpires, awakening a profound healing. My work is a healing ritual, not only to myself, but to the many women who wear SUE WONG. My designs heal through the power of beauty and connects women to their ultimate Feminine Divine: the Goddess who resides in every woman. As long as Humanity exists, the Human Condition remains in its reigning status of omni-importance. The ever-evolving progress of Humanity is an eternal quest for Healing. In this regard, awakening the inner Goddess that resides in each and every women defies evolution itself, because it taps into an essence that is timeless and my focus on this design-for-Healing approach permeates into each and every one of my designs (across all genres), infusing the result with a timelessness.
I consider myself a Warrior-Goddess. I have three patron goddesses to whom I pay metaphorical homage: Aphrodite, Artemis and Athena. Aphrodite, the Goddess of Beauty and Love: I worship at her temple every day in the creative work that I do in honoring the Eternal Feminine and in living and creating Beauty; Artemis: Goddess of the Hunt: she propelled me towards the field of achievement and accomplishment–to be an active DOER and to be an active manifestor of all my dreams; Athena, Goddess of Wisdom: I perceive life as an on-going, wondrous odyssey of acquiring knowledge and wisdom, surviving and learning life lessons and an ever-evolving journey towards one's higher self. Therefore, I am a creator of beauty, a fearless warrior, and what I strive for in life ultimately is wisdom as a compass to live by.
Time can change certain aspects on the surface, but the inner, essence of the Feminine Divine, the Goddess I design for – the message I offer as healing through experiential Art — remains eternal and unchanged. Know who you are and nothing can shake you.
AM: If you could host a private dinner party with five of your most admired guests, whom would they be?
I love engaging in thought-provocative, passionate conversations with great thinkers, philosophers, writers and artists. I've often been told that the experiential quality of my hosted dinners and soirées are equated to reviving the Salon culture of Parisian haute refinement; where great minds converge to share insights and discuss key ideas of enlightenment across a myriad of topics.
If I could have my ideal choice of individuals that uphold the most interesting, multi-dimensional, cultural characteristics and kaleidoscopic perceptions of life and the realms of art, literature, philosophy and psychology, the formal Dining Room at my historic Hollywood landmark home, The Cedars would host the following guests: Joseph Campbell, Salvador Dali, Carl Jung, Timothy Leary, Anaïs Nin and I'd like to add two more luminaries – Pablo Picasso and Federico Fellini.
I'm constantly learning and evolving. I believe that everything in life happens for a higher reason towards the growth and evolution of our souls. Everyone whom I meet along my spiritual path is a karmic reunion. There are no accidents in life–we create and manifest the reality that we live. I have immersed myself within and practice Jungian teachings for the past 17 years. Sub-texts expose incredible confessions and learnings/teachings about the Human Condition.
I am honored to have a vast array of highly skilled and multi-talented professionals and artists as friends and guests who attend the exclusive soirées at The Cedars. However, qualities such an honor and integrity are of paramount importance to me. Royalty is not solely determined by lineage, but is often defined by one's soul character. It is such high quality, royal souls that I welcome within my life and to my exclusive dinner parties.
Passion and Heart, those are the two requisites I seek in every aspect of Life and Art, and the people I surround myself with and the collaborators I work with.
AM: Any closing thoughts?
As I enter into Chapter Three of my life, I stand at the threshold of the most pivotal segment of all. The Phoenix rises for the Third time as I morph into my THIRD reinvention. It is the beginning of the most productive and creative period of my life. I now stand as a well-seasoned, mature artist, and can use the sum total of my many creative brains culled from a lifetime of collective creative experiences to build a SUE WONG global licensing empire.
I am of the Nietzsche school that whatever does not kill us will make us that much stronger. My dreams keep me youthful, ageless and connect me to the living pulse of the Universe– and to the eternal Divine Energy that informs and creates all life. I am in gratitude and deep appreciation for the life that I have been given– it has been a wondrous, magical journey.https://www.youtube.com/embed/HrONsGxcHcY?wmode=transparent&autoplay=0&theme=dark&controls=1&autohide=1&loop=0&showinfo=0&rel=0&playlist=false&enablejsapi=1
I offer the following advice with budding designers and all dreamers out there:
Have a vision!
Hold that vision!
Be true to that vision!
BECOME that vision!
Thank you, Love and Blessings to All.
xxxSW
Alchemy & Masquerade 2016
fashion video, introduced 0n our site
video intro. Special thank you,
Sue Wong, for your support..